Justine Blazer is a Nashville recording artist. Her style is country rock and she currently resides full time in Nashville, TN. Her unique vocal styling is a combination of smooth soul, southern rock and Nashville twang. Not only a singer, she plays the acoustic guitar, electric guitar and the harmonica. She's the Ram Trucks Battle of the Bands National Winner and is a 21-Time Detroit Music Awards nominee. Her sound is modern day country fused with edgy rock and roll with a little bit of soul, offering the freshest sound on the radio. Now on tour performing 150+ shows a year. Her fifth studio album entitled, Gasoline, is available now.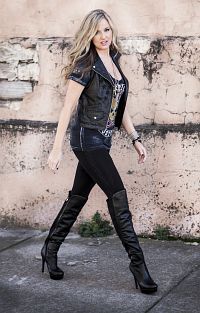 To answer your first question, yes, "Blazer" is her real, given name. "I get asked that all the time," Justine says with a smile. It's also an accurate description of the impact her incredible talent is searing into the heart of the country music world. One of the hardest working girls in country music, Justine has been described as the female version of Jason Aldean or a modern day Shania Twain.

A statuesque 5-foot-10 blonde and former model, Nashville based national country/rock recording artist, Justine Blazer, is impossible to overlook. Infusing her vivacious country/rock and edgy sound with the brawny rock 'n' roll and silvery soul of her Motor City roots, Justine is offering the freshest sound on country radio.

March 2013, Justine released of her fifth studio album, Gasoline. It offers 11 new tracks including her debut single off the new record, Not Gonna Take You Back, now playing on country radio. This sassy rockin' tune with attitude and flare is about a cheating ex-boyfriend that tries to win her back but doesn't. It was written by Justine Blazer and Brandon Henegar (who plays lead guitar for Chris Cagle).

Every since Justine was a little girl, she has been preparing for superstardom in the entertainment business. Raised in Canton, Mich., outside Detroit, her mother, Cynthia, was an auto show model and dancer who operated her own dance studio. "I grew up in that studio, literally," Justine says. "Ballet, tap, jazz, all that stuff. I was in my first beauty pageant at age 2." Her parents encouraged her to sing and enrolled her in private vocal lessons "because I was always singing around the house," she recalls. "I watched movies like Annie, lots of musicals, because I was always interested in performing. But my parents never pushed me. I wanted to do it, and they supported my dream."

Her family moved to Nashville for several years. "That's probably where the country roots started," Justine suggests. "Growing up, I listened to women who could sing exceptionally well. I was a big Patsy Cline fan. Martina McBride. Faith Hill. Reba, of course. Even Judy Garland. She wasn't country, but she was one of my favorites."

Justine started writing songs at 8, playing piano at 10, studying opera at 12. "I had a different focus than most kids," she says. "I always had dreams of becoming a big star. Even at the age of 10 I knew what I wanted to do, and I would stop at nothing to get there. I still have that mindset."

She recorded her first three-song EP at age 13, which got her noticed on the Nashville scene. Upon graduating from high school, she began learning guitar and moved away from home to pursue her career. She landed her first professional gig as a cast performer at Cedar Point amusement park, then moved to New York to work with different producers and learn the music business. "I was actually homeless at one point," Justine relates. "I was living with a person who died in a car accident and I couldn't afford the rent, so I was forced to leave and live in my car for a bit. It wasn't necessarily a hard time but it made me super strong, and it made me understand the full spectrum of the music business."

While honing her craft, she traveled the country as an auto show spokesmodel. She would sing "The Star Spangled Banner" at pro sporting events in whatever city she was working. She became proficient on multiple instruments, appeared in countless showcase performances and songwriter events, recorded her original tunes in studios, and danced well enough to earn an invitation from the Radio City Rockettes. All the while, once a month, she returned to Nashville. "Just experiencing the lifestyle down there," she says. "Trying to get back to my roots, if you will."

In 2004, responding to requests from fans of her live performances, Justine recorded an album of Christmas music, Just a Justine Christmas. In 2005, she released her first contemporary CD, Passion in Me, featuring the single "Raining in the City." In 2008, she released her first country album, Red, White and Blue. In 2010, she released her second country album, Welcome to My World featuring the single, New Country Beat. In 2012, she moved to Nashville, TN to help further her music where she wrote and recorded her new album, Gasoline, due out February 2013.

This powerhouse vocalist has also won several national awards including the Ram Trucks Battle of the Band National Competition, she has been nominated for 21 Detroit Music Awards and won the Detroit Blues Challenge in 2007.

Backed by her amazing live band, Justine plays around 160+ live tour dates a year headlining shows across the county and even sharing the same stage as artists such as Lonestar, Justin Moore, Josh Thompson, Lee Brice, Terri Clark, Kathy Mattea, Jason Aldean, The Miracles and even Regis Philbin. Justine is an active member of the CMA, ACM, BMI, NSAI. She is proudly endorsed by Luna Guitars, Steve Clayton Picks, Music Man and proudly sponsored by Patrick Thompson and Dr. Richard Simman.